Jun 27, 2016 | Posted by etc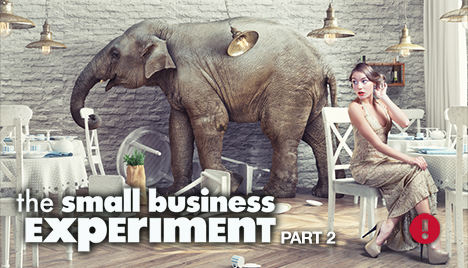 It was one of those summer days where the interstate is steaming like a hot dish just pulled from the oven. Unfortunately, we were already in an oven, and there was no place to let the dish cool down. We were on our way to Indiana to set up a large display for a client in the Pork industry. It was to be ready in two days for the arrival of the goods. Goods–as in live pigs on the show floor. These were not your standard, everyday, garden variety pig. The DNA in these animals was so valuable that they had to be destroyed after the show. It was not a possibility that they could be given away to charity. That is Some Pig. In fact, if pigs could wear lipstick? These pigs would be wearing it.
Bacon is a hot commodity in the Midwest. Our client was looking forward to making some major sales. We pulled in and began to unload the crates into space 2593. That is when we noticed the pole–the kind of pole that supported the entire architecture of the hall. Now a pole may not seem like that big of a deal to you. But in the trade show world, and in the space planning documents for the show, there was no pole in space 2593. This pole was now a Big Deal. It was an obstacle to the focal point of the whole display–a big tower to which all the rest of the display attached.
As it turns out, so many vendors signed up for the show that the management ran out of spaces. They decided if they could just squeeze in a few more vendors, more money could be made. Of course. And so they moved everyone a few feet to the north. Which positioned the pole right in the middle of our display.
Our client had not yet arrived. The potential sales from this show warranted spending many thousands of dollars on a display. But we decided not stop to calculate exactly how much trouble we might be in. Rounded to the nearest dollar, if they were anticipating many thousands in sales? We could anticipate losing at least that same amount or more.
We got to work. The show must go on.

We quickly redesigned the display. We flew in parts overnight. We worked into the wee hours of the morning to make the display work in the existing space, disguising the pole as part of the plan. The pole was not our fault, but the display was our responsibility. We made it work. And it was ready for our four-legged products. Our client, though visibly pleased, had little understanding of what we had just gone through to pull it off and make it look like it was supposed to be that way in the first place.
We went home with our shirts intact. Nice.
I am not making this stuff up. I have more stories like this, some of which could make an entrepreneur's hair stand on end.
You cannot ask why these things happen. In small business, it just does.
No matter how long you have been in business, and no matter how much passion you pour into it, Murphy's Law prevails. At times like this, I feel as if I am being filmed for some reality TV show. They, (whoever they are), are strategically hidden with their camera on their shoulder somewhere, ready and waiting for some visible manifestation of a mental breakdown, as some strange brand of sadistic entertainment. This is paranoid thinking, I know. But these things always seem to happen when you least expect them.
But let's get this straight. In small business, some days are diamonds, and some days are rocks. Think about Murphy's Law for a second: if anything can go wrong, it will go wrong. Perhaps this Law is not exactly a cosmological constant, but it has a striking parallel to the Law of Entropy. The Law of Entropy is a cosmological constant. The Law of Entropy states that everything in the entire Universe will go from order to disorder. Sound familiar? Indeed, it does. These natural laws in the Universe are like the law of gravity. The more you fight against them, the more they win.
It is not necessary to have any background in science to identify the Law of Entropy. It is easily detected. When was the last time you owned a vehicle that maintained itself? Try placing a four-year-old child in a neatly arranged toy room and see what happens. I swear my computer operating system can go from order to disorder, just from thinking ill thoughts about the machine. The point is that no system can sustain itself without maintenance from outside that system.
Now let's get another thing straight. You will not defy the Law of Entropy. But you most certainly can thwart its effect. It is possible for the intelligent entrepreneur to anticipate and prepare for many potential problems. This is what a business plan is all about. If you do not have a plan, you will have two kinds of problems assailing your business on a daily basis. The first kind of problem is the kind one could have avoided, had you taken a moment to think about it. The second kind is all those unanticipated poles in your way. Both kinds of problems together are lethal for any business.
Even if the law of Entropy is at work in your business right now, it does not have to have the last word. Most anyone can start a business. But it takes a true Entrepreneur to head off potential problems off at the pass, and create scalable systems that will keep customers coming back.
Slay as many dragons as you can in advance.
And join us next time for Part 3!
_______________________________________________
Why do we at etc!graphics inc, a graphic design company, care about your business strategies? Because no matter how beautiful your graphics, they will never make more sense than the clarity of your own vision. The clearer your vision, the more lucid your marketing will be, and the better connection you will make with your target customer. We want to help you find the gold in your business. Join us all this month as we share ways to help your small business sustain and grow in a crowded marketplace. Etc!Graphics is devoted to helping you, the small business owner, think like a marketer.