Getting in the Groove, Part 3: Becoming a Master
Aug 01, 2016 | Posted by etc | comments (0)
---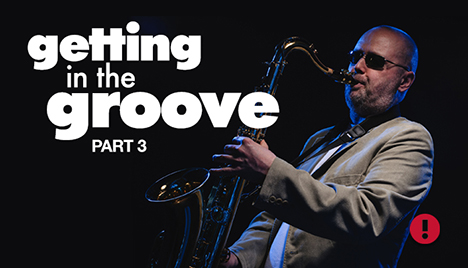 Skip. Skip. Skip. No thanks. Don't need it. Nope. I don't want it. No, I don't want more like this. No. No. And no. Close pop up. Unsubscribe.
So follows the average consumer's experience. Ads are an obstacle, an irritation, and an interruption. At the same time the entrepreneur is doing their best to be seen and heard, the consumer is doing her utmost to avoid it.
When marketers are from Mars, and consumers are from Venus, what is an entrepreneur to do?
For starters, if you are a small business owner and you are marketing the way you have always marketed, you are committing marketing suicide. Consumers now control the marketplace. It isn't about you.
And guess what? If it looks like an ad, sounds like an ad, smells like an ad, and acts even remotely like an ad? They don't want it. No matter what you are selling.
You have heard it said from many a marketing expert, that you have to break through the noise. And so most entrepreneurs, like the Who's down in Whoville, just try to yell louder. The funny thing about this advice is that it ignores one of the most important parts of marketing: You need to say something that is worth listening to.
Becoming a brand is very much like becoming a good musician. It is about grueling daily practice, over and over and over, to prepare your song to be heard. It is about singing with a certain style, for a certain audience, in a specific venue, to create a specific experience. It is about belting out your song with clarity and confidence, knowing full well it is good. It is about singing your heart out, with the express purpose of blessing those that hear you.
Branding is everything you are, and everything you do. It is your promises, your culture, and everything you have set out to accomplish. It may come as a surprise, but like any street musician, no one has to listen to you.
We must earn the right to be heard. Our song is either remarkable or nothing at all. So how do you hone your chops? How do you spend time in the woodshed?
I think you know intuitively:
Master your "instrument". No matter what your industry, learn, and keep learning from the best. No entrepreneur earns a right to be heard by playing like a novice. You must become a master. This may require frequent jam sessions. Mastery requires daily practice until you exude confidence and are prepared for every opportunity. Practice until you see your audience tapping their toes, and play so crazy beautiful that they beg for more.
Create your own voice. Branding is about singing your own song. Sing in your own style, your own key, and your own genre. Don't be afraid to show your personality. Don't try to be someone else, and don't copy what someone else is doing. This does not mean you can't sing the same tune. Just make it uniquely your own.
Choose your audience. Like any pro musician, not everyone will love what you do. But those who do will form a tribe and become your fan club. If you try to please everyone, you will please no one. Branding is choosing. Branding is planned neglect. Think of it this way. If you were promoting an outdoor live music event that featured folk, jazz, classical, and country music, how many tickets do you think you'd sell? It is more about what you don't do than what you do.
Become a show stopper. Learn to connect with your audience. Does your business have stage presence? Do the work to prepare an experience that your audience will never forget, and you will create raving fans. Understand what it is like to be in their shoes. Know what they like. Sing their experience too, and your song will resonate in their hearts. Practice your song until it becomes an experience in itself, and takes them on a journey.
Make it personal. Big brands are losing appeal. Why? They are not human. Today's Brands connect with real people. Make your audience feel as if you are singing right to them. Let your song become their song. If it sounds too perfect, it sounds digital and inhuman.
"If it sounds clean and slick, I've been doing it too long." Miles Davis
Real musicians and real brands are flexible, responsive, spontaneous, and generous. They are secure in their own identity and know where they shine. Because they are secure in their position, they can constantly innovate and explore new ideas within their genre. They cover enough new material that variation on a theme is easy.
That kind of confidence is impact. That kind of confidence attracts. That kind of confidence connects with the audience.
It is not about making more noise. It is about making the right noise.
If you strengthen your voice and your brand, you will not have to get louder. If you need to attract more customers, hone your offerings, and work on your Brand. Practice your song. Work to connect with your fans. Because no matter your industry, no matter the medium, and no matter how many ads you put out there, unless you hone your chops, your song will never be heard.
_______________________________________________
Why do we at etc!graphics inc, a graphic design company, care about your business strategies? Because no matter how beautiful your graphics, they will never make more sense than the clarity of your own vision. The clearer your vision, the more lucid your marketing will be, and the better connection you will make with your target customer. We want to help you find the gold in your business. Join us all this month as we share ways to help your small business sustain and grow in a crowded marketplace. Etc!Graphics is devoted to helping you, the small business owner, think like a marketer.