You Won't Believe What It Takes to. . . Part 1- Get the Lifestyle You Deserve
Aug 03, 2016 | Posted by etc | comments (0)
---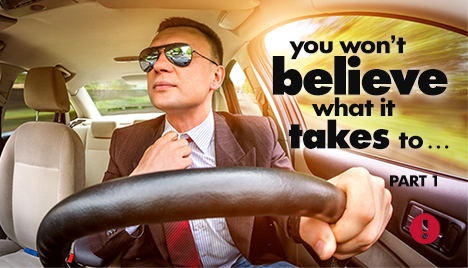 >And thus I begin my August theme, a bit tongue in cheek.If I had a nickel for every time I heard a consultant mouth these words, I would no longer need my day job. The lure of making a lot of money and making it very fast is just so incredibly seductive.  We can imagine ourselves in that lifestyle, soaking up the glamor and luxury. But, while  "getting the lifestyle you deserve" may throw much fuel on the fire of capitalism and enterprise, it rarely produces a sustainable, game-changing business. Hang on, and I will tell you why.
Glamor surrounds the successful entrepreneur. Their stories are the stuff that TV shows are made of. We cannot get enough tales of ordinary people rising from Mr. Nobody to Ms. Somebody in a matter of months, weeks, or even days. Countless blogs filled with perils and bravery and chutzpah are heartwarming and fun to read. And I agree. The birth of a new business is completely magical.
So when someone we know has the guts to cut their own umbilical cord that connects them to a predictable income, we cannot help but sit back in admiration. We put our heads into our hands and watch as they make their way into a brave new world. It is all bliss for the baby entrepreneur. That is, until someone slaps their behind, turns on the bright lights right in their eyes, they feel the cold, and find out they are quite naked. Yes, the real world can be a rude awakening. The magic disappears like a poof in a Looney Tunes cartoon.
It is never as easy as it looks.
Many people start a business for the lure of running their own show. They are tired of working for "The Man". "The Man" is an old idiom representing everything in the workaday world that oppresses, suppresses, and otherwise sucks the life from the very core of your soul. It is "The Man" that wrenches those mind-numbing, repetitious tasks from your day, and compensates you with a measly pittance at the end of what seems an an ungodly period time, (and reminds you just how thankful you should be). I sometimes wonder just how many new businesses "The Man" has inspired. Doubtless, it is countless. With any brain at all, anyone can calculate that these same hours could be used to great personal advantage. If given half a chance, you could escape to freedom, make twice the salary, keep all the profit, andkeep your four-week annual vacation. (Maybe.)
Ahhhh, the smell of freedom. It is intoxicating. But wait a minute. Aren't you just escaping? Escaping "The Man" is one of the worse reasons everto start a business. And we must be honest. Many entrepreneurs will work 80 hours to avoid working 40. Some small business owners will end up enslaved again. Sure, you would never begin a business that does not fuel your fire. But many consultants will encourage you to build your business on whatyou want–upon the lifestyle that you desire to have. The strange thing about this advice is that it is not about you.
A successful business never begins with you. It begins with your customer–and what they want. It is all about them.
Every time I hear "get the lifestyle you deserve," I notice the message has some glaring omissions. These consultants conveniently leave out the part where you need to deliver a value equivalent to said lifestyle. In other words, you have to earn it. They never talk about that. And then they leave out the part that the world must want what you have to sell. Oh, yeah. That means that someone has to like it enough to buy it. And buy a lot of it. That takes planning. And then there is this detail that the product must be better than what the competition has to offer. Oh, yeah. They leave that out too. To make a product better than the alternatives takes some planning too. Beyond all this, it also needs to be offered at a fair price.  
All these consultants want to talk about is how to get more leads. They forget that you need to give more in order to get more. It is not about getting likes and clicks and leads. And by the way, these leads? They are people. 
In the end, your income is a direct reflection of the value you offer the world. If I want to be paid more, I need to provide more. It is as simple as that.
When you begin to orbit your business around the customer instead of yourself, you find you will no longer have to struggle to get the customers you need. If you serve them well, you will deserve the income you make–and the associated lifestyle.
The purpose of life is to give, not get. What do you have that the world is waiting for?
"And in the end, the love you take, is equal to the love you make."
_______________________________________________
Why do we at etc!graphics inc, a graphic design company, care about your business strategies?  Because no matter how beautiful your graphics, they will never make more sense than the clarity of your own vision. The clearer your vision, the more lucid your marketing will be, and the better connection you will make with your target customer. We want to help you find the gold in your business. Join us all this month as we share ways to help your small business sustain and grow in a crowded marketplace. Etc!Graphics is devoted to helping you, the small business owner, think like a marketer.