Getting in the Groove, Part 1: How to Orchestrate Success
Jul 29, 2016 | Posted by etc | comments (0)
---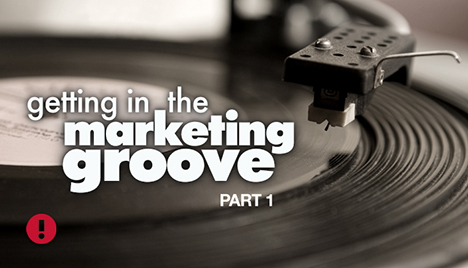 Answer this: What does my business provide that no other company can provide? What can my business say about its products or services that no other company can say?
It may seem too difficult to define. Yet, any company that we have served in our professional history that was able to articulate this difference has become a thriving enterprise. It is called a unique selling proposition, or USP. While a USP is not easy to define, it is a tool well within the reach of the smallest of entities. It requires little or no capital to create. Whatever time it takes, it is well worth it to improve the function of every other tool in your marketing toolbox.
I do not pretend to understand macroeconomics. I do understand the law of supply and demand, (as do most people who can balance a checkbook). Simply stated, this law states that the value of a product is the direct inverse of its availability. But even if your product is available everywhere it is still possible to create a unique way of doing business.
If you can articulate the difference, you are no longer a commodity.
We can learn much from the music industry on creating your own signature style. Take the Billy Strayhorn Jazz Standard "Take the A Train," made famous by the Duke Ellington Orchestra for an example. It would be impossible to count the number of times this tune has been covered by other artists, whether recorded or performed at a live outdoor music event. Why did the likes of Ella Fitzgerald, Dave Brubeck, Charles Mingus, Maynard Ferguson, or Wynton Marsalis record this song, when it had already been recorded countless times before? While they played the same song, each artist brought their own particular style and creativity and made it their very own. It has never been recorded the same way twice.
Perhaps you work in an industry with cut-throat competition. Finding a unique way of doing business seems virtually impossible. Re-framing your thinking is in order. Too much competition in your market is a very good sign indeed. It indicates an abundance of demand, and demand is always the first marketing hurdle.
Next, what resources do you have at your disposal? And what disadvantages do you have? Disadvantages?Yes, disadvantages! You can turn them into assets too! Dizzy Gillespie's horn was bent on accident, right before he was to go onstage to play. A comedy dance team stepped on it while fooling around backstage. Dizzy went on with the show and played it as is. His trumpet not only became his trademark, the horn's unique sound made Dizzy a jazz sensation. Billie Holiday burned her hair while preparing to sing in a nightclub. She put a gardenia in her hair to cover the damage. The flower became a trademark to her fantastic set of pipes, and the rest, as they say, is history. Woody Guthrie's songs were so unique that he decided to use a copyright that allowed everyone to copy him. He knew that wherever his songs were sung, it would only add credence to his work as a folk singer and songwriter.
So everyone else is singing your song! Practice till you can sing it better. There are plenty of covers that people love more than the original. Elvis's famous Hound Dog was originally sung by Big Mama Thorton. Over the Rainbow, originally made famous by Judy Garland, was resurrected to contemporary fame by Israel Kamakawiwo'ole. Oh What a Beautiful Morning, from the Rogers and Hammerstein musical Oklahoma, could not be more beautiful as sung by Ray Charles. You probably have a few favorite covers of your own.
The more a business focuses on playing their own unique song to the best of their ability, the less they have to look for fans. Sing your own song. Sing it the best way you know how.
Become the best you can be and the fans will come looking for you.
_______________________________________________
Why do we at etc!graphics inc, a graphic design company, care about your business strategies? Because no matter how beautiful your graphics, they will never make more sense than the clarity of your own vision. The clearer your vision, the more lucid your marketing will be, and the better connection you will make with your target customer. We want to help you find the gold in your business. Join us all this month as we share ways to help your small business sustain and grow in a crowded marketplace. Etc!Graphics is devoted to helping you, the small business owner, think like a marketer.