Apr 21, 2016 | Posted by etc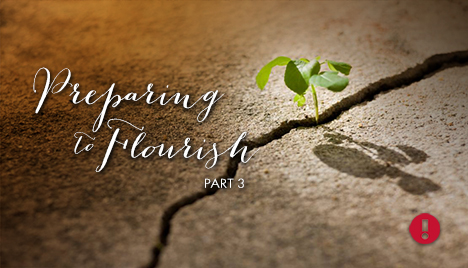 Preparing to Flourish- Part 3
Every day, entrepreneurs all over America plan their day with Great Expectations. They inhale breakfast, fly through morning traffic, and hit the office floor running. If you are a typical entrepreneur, you have more than one mountain on your agenda to move.
But shortly after the day begins, something happens. The plan begins to melt before your very eyes. Pressing questions appear from customers and employees. Computer issues raise their ugly heads. Emails galore. And your phone sounds like one of those old-fashioned customer service bells. Ring for service. Ding ding ding. Are you not paying attention? Look at me. Ding ding distraction.
Welcome to the 21st Century. Digital technology may have made our lives better, but it certainly has not made it easier. You now have 1,000,001 apps that can assist you in moving those mountains. Pick me! Pick me! But along with that help, you get popup windows, flashing videos, and hey, there's an interesting read! Squirrel! Somehow it feels like you are back on the high school dance floor. The strobe light is pulsing to a bass line that could knock your teeth out, and your brains feel numb. The plan falls to the floor, and we did not even notice when it slipped from our hands.
Hence, we have uncovered the second largest rock to growth: the demon of distraction. (Last week, we talked about the biggest obstacle. Read all about it here.) Distraction will stunt your growth. If you run a successful business, and you keep your promises, you will get busier and busier by the day. Distractions quickly follow, and come in many shapes and sizes. Most dedicated entrepreneurs take all the interruptions on, doing something with each limb. They see busyness as the price of success. They conclude there are not enough hours in a day to fill orders and plan too, and the planning goes out the window. And with the planning, future growth.
Even ideas can be a bright shiny distraction. True entrepreneurs will always have more ideas than time. Each one can hold so much potential! But the price of this distraction is a lack of focus. Lack of focus is deadly.
Finally, there are the all the necessary tasks of business. As the business grows, it is difficult to get your necessary ducks in a row.
What to do? How to divide and conquer? The first step to victory over the demon of distraction is to identify the enemy. Know how the enemy works.
Here are a few essential strategies:
Guard your planning time with your life. Thinking is the most valuable activity in your business. If you are not making time to plan, you are reacting instead of leading. Review your plan each day first, before reading your email. Do not allow yourself to become a reactor, or you will allow others to dictate how you will spend your day.
Guard your vision and mission with your life. There are many ways to make money. Entrepreneurs can get distracted by too many ideas. But even though an idea may have great potential, it may not fit the future shape of the company. Like a child's shape toy, toss any bright shiny object that does not fit the shape of your vision.
Guard your time with your life. Write down every necessary task in your business. Map them out on your weekly calendar. Just like a financial budget, you will always find you have more obligations than assets. Time is far more valuable than money. Budget your time. Place book ends on the amount of time you will allow for each task. Do not allow any one task to drag on and on. If you know you have a tendency to get sucked into social media, set an alarm for the time allowed. When the alarm rings, shut it down. Schedule according to your body clock. If you think with more clarity in the morning, schedule your important tasks before your brain power wanes. Bookends work well if you are the kind of person that works best under deadlines.
Guard your priorities with your life. You can only land one plane at a time, and only you can determine their order of importance. Focus on the top three planes, and choose one. Choosing is hard, but you must choose. At one point in our business, I felt every task I had on my list was equally urgent and important. I once complained to a peer that I could not get my ducks in a row. I felt they were all running around in circles. He responded, "That is when you just start picking them off, one at a time." Great advice.
Guard your brain with your life. Take a digital Sabbath and a vow of digital silence. Plan a holiday from social media, from screens, and from computers altogether. Find time to get outside, to clear your head and heart, and strengthen your body. You will return to the real world with fresh creativity. Leisure is not optional in the entrepreneur's time budget.
You are the adult in the room. You can eliminate distraction. Focus is a choice. If you do not take the time to plan, you are planning to waste your time. If you are not taking the time to eliminate distractions and focus your efforts, your business is getting watered down little by little, day by day.
When we choose to focus all our energy and cognition on one thing, we are like sunbeams through a magnifying glass. We can burn our way through any task in far less time.
Don't let your busyness rob you of your business. Carpe Diem.
_______________________________________________
Why do we at etc!graphics inc, a graphic design company, care about your business strategies? Because no matter how beautiful your graphics, they will never make more sense than the clarity of your own vision. The clearer your vision, the more lucid your marketing will be, and the better connection you will make with your target customer. We want to help you find the gold in your business. Join us all this month as we share ways to help your small business sustain and grow in a crowded marketplace. Etc!Graphics is devoted to helping you, the small business owner, think like a marketer.