Mar 23, 2016 | Posted by etc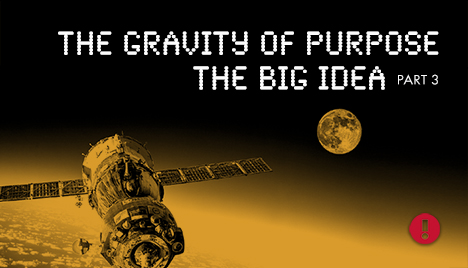 Would you describe the work you do in your business as meaningless? Or meaningful? All this month we have been discussing the value of divining The Big Idea to serve as the gravitational force for your entrepreneurial journey. Think back to your grade school science lessons. Gravity kept the Apollo Mission on course. Gravity got them to the moon. Then, that same gravity flung them safely back to earth. The primary purpose of The Big Idea works much like that. It is the constraint required to stay on course and the momentum needed to reach the goal.
But there is a secondary purpose to The Big Idea, which is every bit as important as the first, and that is the purpose of purpose itself. We spend most of our waking hours as adults working. Should it not be meaningful? Most entrepreneurs are willing to work very hard. But we desire more than hard work. We want to know at the end of a busy day that we made a difference–that the people we serve are in a better place than they were before–even if we are not brain surgeons or working to solve some grave problem in the human condition. The human heart longs for purpose.
The possibility for human fulfillment is just one of many reasons I love small business. Many people in cubicle-land have jobs that seem vapid and pointless. They are clock watchers, planning their escape at 5:00pm. They often have very specialized jobs that are only one part of a much larger process, and often far removed from the end user. They may work all day long in one place–in logistics, or on a production line, with no direct reward for their labor other than a paycheck. But in contrast, in a small business, the entrepreneur gets to be a part of the entire process from beginning to end. When the masterpiece is complete, you place it into the hands of a delighted customer, and the direct and immediate reward for your labor is standing right in front of you, with a big smile on their face. The satisfaction of a job well done can be intoxicating.
But I do not want you to get confused. Last week, you may remember me saying that I am just naïve enough to believe that every person was born for a particular purpose. But what I do not want you to imagine is that one moment you will be walking down the street, and the next moment, the clouds part, bright beams of glory shine down upon your head, and choirs of angels fill the sky, and a loud voice thunders something specific like, "You shall make films that change people's lives."
Nope. It does not happen like that.
It does not happen in an instant. It does not happen overnight. It does not happen after tests to determine your career path. It could take many years to find your sweet spot. Some people go through many iterations and evolutions and revolutions before they land on The Specific Big Idea. Prior to such landing, it is only Big Idea-ish.
But you still can find The Big Idea. And you will–if you are brave enough to continue pursuing it.
Here are three ways to pursue:
Follow your curiosity where it leads. Continue to educate yourself about things that matter to you, things that interest you, and things that bring deep meaning to your life. Continual learning will prepare you for opportunities.
Take those opportunities as the doors open. In order for doors to open, you must be looking for them, and you must knock on them. You cannot expect anyone to know that you are standing out there. You must be brave enough to say what you want.
Seek the place where you can be the biggest help to others. What resources do you have at your disposal? Where can you use them? What task is lying right in front of you?
No matter what we do for a living, it is only a matter of time before the industry is disrupted. In the current marketplace, niches are as fleeting. Opportunities exist, but one must be ready. Seeking The Big Idea will prepare you for opportunities that are not yet on the horizon. It will help you nix every meaningless task that is not serving your goal. Seeking The Big Idea will bring order to your business. The more clear it becomes, the more the stars will align. Your business will make sense. It will help you identify your gifts. When our work makes use of our greatest gifts, we are preventing the greatest waste of all: the waste of humanity.
You have something you can do to make the world a better place, for you, and for others. Someone, somewhere, is waiting, and will miss out if you do not share it. Seek The Big Idea, because gift is a terrible thing to waste.
_______________________________________________
Why do we at etc!graphics inc, a graphic design company, care about your business strategies? Because no matter how beautiful we make your visuals, your graphics will never make more sense than the clarity of your own vision. The clearer your target, the more lucid your marketing will be, and the better connection your visual graphics will make with your target customer. We want to help you become the best you can be. Join us all this month as we share ways to help your small business sustain and grow in a crowded marketplace. Etc!Graphics is devoted to helping you, the small business owner, think like a marketer.