The Shopping Cart Before the Horse
Jun 02, 2015 | Posted by etc | comments (0)
---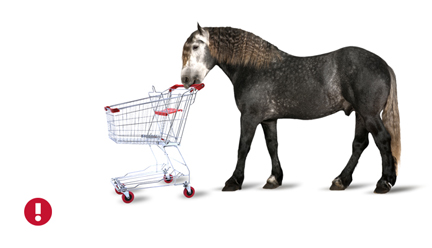 Part I
Have you ever seen a Grant Wood painting? If so, you have seen Iowa. Iowa does look like that. You can argue with me, but I will contend no other State is as green. In case you did not know, we grow stuff here, and grow stuff very well at that. Since June is the month of unstoppable growth, we are going to talk all this month about growing businesses. That will add to the green!
If only we could get our small businesses to grow like Iowa weeds in June! We once poured a cement slab over some weeds in our yard, only to have them grow out around that slab later in the summer. If only small businesses could be half that resilient! But with half of all start ups folding by year five, and half of the remainder folding by year ten, we know the Iowa weeds analogy could not be more incorrect. There are just too many ways to fail at small business. Let me count the ways. No, wait, I take that back. Let's not. That would be too depressing. But there are certainly many common ways that entrepreneurs get the cart before the horse. So we are going to be discussing five of the most common ways that entrepreneurs are hitching their horses incorrectly. Since this is the new millennia, we will at least update the idiom. The vehicle of commerce is now a shopping cart. Either way, wooden or metal, horses still do not know what to do when the cart is in front.
Case in point. I make a habit of listening to podcasts, mainly out of curiosity, to see what the "experts" in the marketing industry are teaching and to see what others deem essential marketing techniques for small business owners. I was listening this past week to one in particular, and was never more disappointed in my life. This shopping cart did not even have a horse–nothing to drive the cart at all. In fact it was loose in the parking lot. And it could cause damage out there.
The entire webinar repeated the same mantra over and over: "Get the income you deserve! Don't you deserve to get paid all that you are worth? Don't you deserve to take that vacation? Of course you do! Click the button to sign up below to create the business of your dreams." How I wish I could tell you there were more to the training than this. Oh, I almost forgot. There was a free PDF download. It was a "checklist" of marketing tasks–a reminder not to forget to mail out your postcards. Or to send your newsletter. And oh yes, it reminded you not to forget your email campaign. Every third month there was an extra task thrown in–sending out an extra postcard that was supposed to deliver a huge surge of cash flow every quarter, just like magic! Of course, no one would have ever thought of this checklist on their own. And of course, I'm being facetious.
I have nothing against making money. Not even making good money. My beef lies in that throughout the entire podcast, he never once stopped to ask whether our product was worthy of a higher price tag. He was asking the wrong question. Instead of asking the question "how can I make more sales?", he should have been asking, "how can I provide more value?"
The shopping cart was indeed before the horse. Do you want to make more money in your business? We all do. Find a way to make your product more valuable.This will place your horse firmly in front of the cart. It will then be a much easier task to pull in the sales. It just makes good horse sense.
Stay tuned for Part II of The Shopping Cart Before the Horse, next week!